Meeting Your Coaches
We understand what its like to lack energy, motivation and to feel downright unhappy with life.
Read our stories below and you'll see that we have all had our lives transformed by the one thing we love... boxing!
Whether its weight-loss, gaining self confidence, finding friendship, saving a marriage or learning to live life to the fullest. All your Punch Love coaches understand what it feels like to want to make a change and live your best life, just like you.
What first brought you through the doors of Punch Love?
Susie: I first became a member to be a support person for my daughter Georgia .. I wasn't even sure if I was going to stay after the first month but we quickly fell in love with PL and saw within weeks the life changing impact it was having on both of us .. in particular my mental health which then helped me to lose the 30kg I had acquired over the previous 10 years. For the first time in years I felt like me again ; so cliche but so very true.
Dido: I love boxing and I'd been out for a while with injury. I was super keen and came for a look a week before it had opened … Oops, and came back for the open day. Nik was so friendly and enthusiastic. Its hard to explain but there was a feeling when I walked in. Everything felt right. It felt like it was made for me :)
Britt: I started at Punch Love 5 years ago after the birth of my first son after many recommendations about how great it was. After a few sessions I loved it and was hooked! Not long after I started training, I was offered a role teaching a couple of times a week, where I and taught and trained right through my second pregnancy. I write the programs now and have done for a few years. I just love watching the ladies come to increase their fitness, overcome their fears and find a welcoming place to train.
Bec: I was made redundant after 11 years at my last job. I needed a fresh start and joined boxing 4 classes a week and over 5 months PL helped me through one of the hardest times of my life. I'm so honoured to help our ladies the same way.
Fran: I have always been fairly fit and very active, but when I turned up to the open day I was recovering from major knee surgery and was struggling with my health due to Crohns. I was just going for a look, seriously the place was a good 30 min drive from home so it would want to be pretty special if they thought I was signing up!
Out comes this gorgeous blonde chick (I don't relate well to blondes) introduces herself as Nik, the owner, and has a chat to me about ME and was genuinely interested in my story. I explained that I was 3 weeks off being allowed to exercise and that I would be in touch - normally I wouldn't have followed up but guess what, turns out this place WAS pretty special, and the rest, as they say, is history! Two years later I was given the best opportunity ever and have enjoyed every minute of helping our members to their goals quicker . As a side note, and the real kicker - when I contacted that gorgeous blonde 3 weeks later she remembered me and my story. I'm sure that won't surprise any of you - it epitomises the essence of this very special place.
Dom: I felt that Punch Love in some ways chose me. It came up on my News feed on Facebook and I just had to try it. I was intrigued by the boxing aspect of it too. Best decision I made. Nearly 3 and half years later Im still loving every moment. I also resonated with Karina and Nik, in their own weight loss and wellness stories, so that's when I knew I had found my tribe.
Kim: I was looking for something different with my training. I had been bootcamp training and wanted a change. Boxing is my love and I had heard Punch Love was the place to box.
Kell: I was looking around for exercise options & found Punch Love. It suited what I wanted to do, but now I would say I have found my 'love'
Trina: I sustained a back injury during the birth of my second daughter Elsie. During rehab after spinal surgery I'd drive past the Punch Love flags everyday and I would say to myself… one day I will go there. I WILL walk in there and I will be amazing and well! I did and I've never looked back!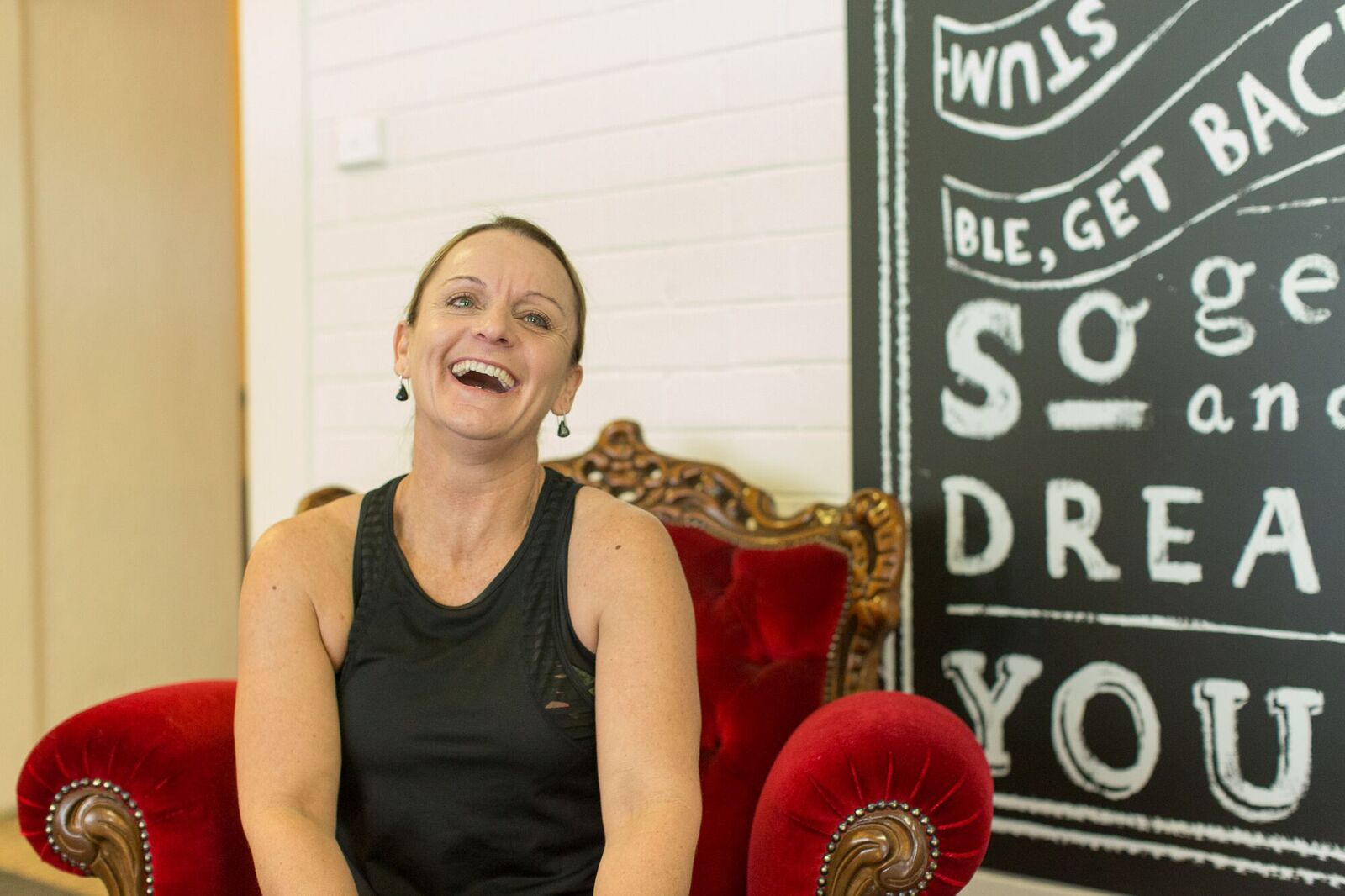 I Weighed in at 122kg & a size 24 at my heaviest just after my 38th birthday. I hit rock bottom following an appointment with a physio who told me I was injured because I was just too fat, I was mortified! But it made me make a decision to never ever be that heavy again. I buddied up with a friend to give this 'boxing thing' ago. Before I knew it I was reaching small target after target and one day I just realised I was where I wanted to be. It was a really rewarding and enjoyable journey where I got physically stronger and mentally fitter an the same time. I'm happy in my self & love feeling full of energy & vitality. For me it was the love of Boxing that finally made something click. I think when you are faced with such a big task as losing 20, 30 40 or more kgs, its really hard to see how you are going to do it. Those big numbers can be so overwhelming and big goals can seem like it will take forever to get to. I know what its like to just give up & eat instead.
There is nothing better than that feeling of connecting with something and feeling any frustrations from the day being released from your body. There are huge benefits to boxing. Don't take your daily frustrations home to your husband or family, Box It Out! I love how I can push myself harder and see the changes in my body when I do. Some days are mental training days others are physical.
To reach a goal, you should be excited about that goal and the result you are working toward. It should never feel like a task or hard work. You'll only show up if its something you can actually enjoy. I researched those that lost weight and kept it off. The common thread amongst all I interviewed was the finding of something that they enjoyed each day. They had made fitness a lifestyle not a destination. Boxing is that for me. At the end of a session, I always get that deep sense of satisfaction... I feel good!
I know you'll love our Punch Love sessions as much as I do! Check out our classes and timetable to see what suits your schedule. xxx Nik
In 2014 I turned 40. For all intents and purposes I 'had it all together'. As a wife and mother of two young children, I had a successful career as a business consultant and facilitator operating my own company for over a decade. Behind the facade, I had reached the heaviest I had ever been, with zero energy and dwindling motivation. I was struggling with thoughts of 'was this as good as it gets'.
At the same time a friend and I joined meditation classes (not that I am any good at it) but it gave me some all-important 'me time' to reflect on what I wanted from life.
It hit me that only I could shape my future, I wasn't a victim, I couldn't blame my partner or work or anyone else for my circumstances and in doing so I took responsibility for becoming the best version of me I could be.
The critical turning point was when in April 2014, my inspirational girlfriend Nik opened the Boxing Room. It may sound dramatic but that moment felt like a once in a lifetime opportunity. I had never boxed before and commenced training with one arm - I had a major wrist reconstruction only 5 months prior and could not use my right wrist. What I found was a place where I could escape being all those things that people expected of me and just 'be'. I found a community of ladies who inspired me and continue to inspire me every day. As the weight started to drop, my shape started to change and my fitness grew, as did my motivation. I sought to understand more about the changes that were happening with my body and took up tertiary studies in Fitness – it had been more than 20 years! 25kgs lighter and 5 dress sizes smaller, I am now a qualified Group Fitness and Boxing Instructor. Whilst I am so happy with my journey, I know fitness is not a destination; it is a way of life and for me continues every day (some days are harder than others). It is not just about the scales, it is about that inner confidence to become that version of ourselves we aspire to in our own secret moments.
I am immensely proud to have joined the amazing team of instructors at Punch Love. I am one of the lucky ones to have found a new passion and direction. I love instructing and look forward to training alongside you. Together we can get there! Love Karina X
It's My Punch Love... Make it yours!